Leave a Review
[2]
Available Extras
Pet Fee(s)
Please select the number of pets. Each pet is $25 per pet per night. 3 dog max
Camp David birthday weekend getaway
Reviewed on 2018-05-22 by from Bothell, WA US
Updated on 2018-05-22
Services from rental manager
Cleanliness
Location
Property condition
A very pleasant and peaceful stay.
Getaway
Reviewed on 2018-05-16 by

Wayne D.

from Anchorage, AK United States

Updated on 2018-05-16

Services from rental manager

Cleanliness

Location

Property condition

Perfect
The Ultimate Cozy Cabin
Reviewed on 2018-03-29 by

Katie T.

from Snoqualmie, WA US

Updated on 2018-03-29

Services from rental manager

Cleanliness

Location

Property condition

We had an amazing time. My husband, dog and I went for an extended weekend getaway and everything was amazing. The cabin is adorable with a ton of details that looks like a pinterest catalog. It is a little farther than we would have liked from downtown Leavenworth (25 minutes), but that was not that big of a deal. Loved this house and will definitely be back.
Great little cabin
Reviewed on 2018-03-29 by

Patrick C.

from Kirkland, WA United States

Updated on 2018-03-29

Services from rental manager

Cleanliness

Location

Property condition

Nicely appointed little cabin. Great for a couple or a small family.
Cozy Place Perfect For Ski Weekend
Reviewed on 2018-03-29 by

Coral T.

from Woodland, WA US

Updated on 2018-03-29

Services from rental manager

Cleanliness

Location

Property condition

I reserved a cabin on the wrong weekend. The management set me up in another cabin without a problem, I am so grateful for the amazing customer services! Cabin was clean, super cute and cozy. The hot tub worked well and it was nice to have a wood stove in addition to the regular heat. Big comfy couch. Kitchen and bathroom full of supplies. Our GPS brought us right to the place and the NW comfy cabins app was useful.

$165 - $215/night

Unit Code: CD
MAY SPECIALS- CAMP DAVID, Bungalow for 2 with Hot Tub & Wi-Fi
[3]
[4]
[5]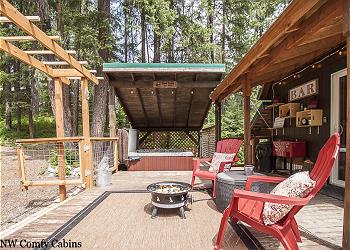 [6]
[7]
[8]
[9]
[10]
[11]
[12]
[13]
[14]
[15]
[16]
[17]
[18]
[19]
[20]
[21]
[22]
[23]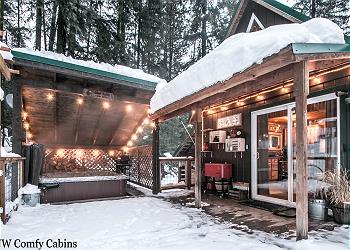 [24]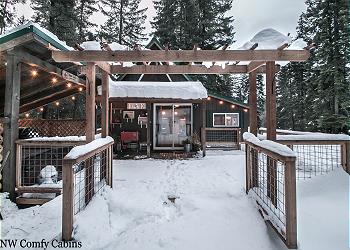 [25]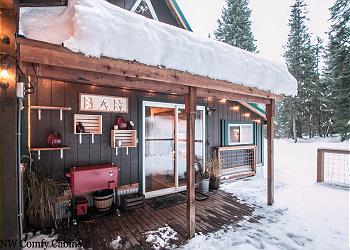 [26]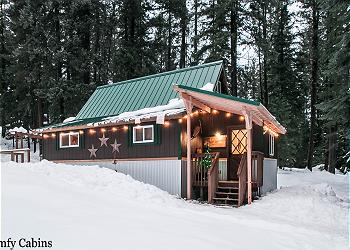 [27]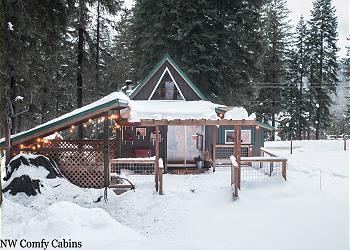 [28]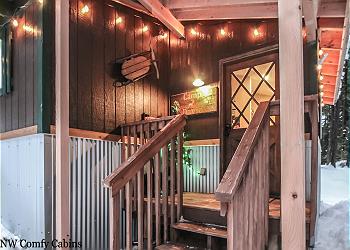 [29]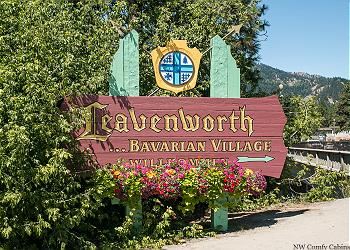 [30]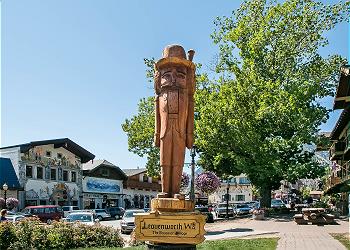 [31]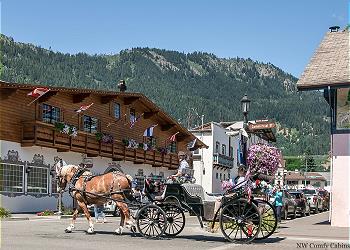 [32]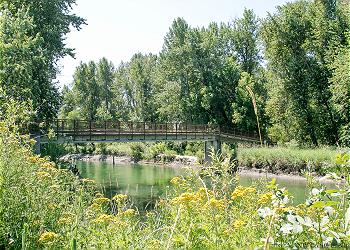 [33]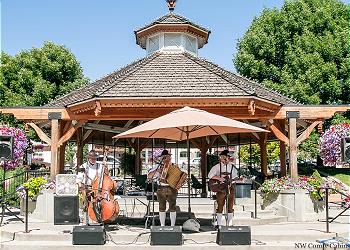 [34]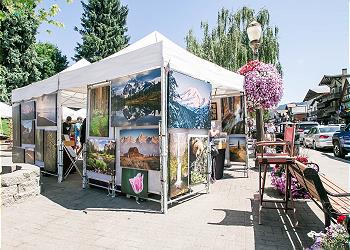 [35]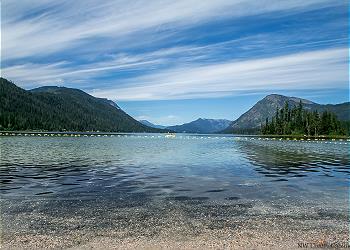 [36]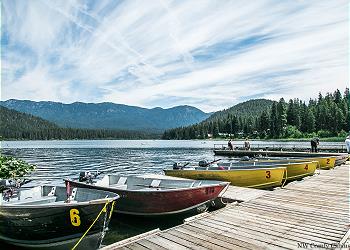 [37]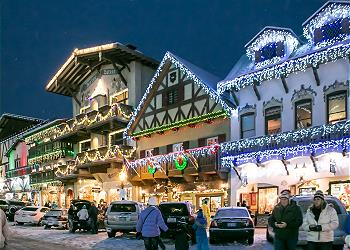 [38]
[39]
1 Bedroom
1 Bath
Featured Amenities
Hot Tub
Internet
Near Mountain Springs Lodge
Pet Friendly
This cozy little bungalow emulates the perfect couple's getaway or a meet up with a friend. Camp David may be small but it offers everything you will need (minus a d/w) to enjoy the perfect retreat. Located in Chiwawa River Pines Camp David is centrally located between Stevens Pass and Leavenworth near the town of Plain. 

As soon as you walk into the cabin hang up your jacket and make yourself at "home" and break free from the busyness of your everyday routine. Pour a glass of wine, crack open a cold micro-brew or whatever your flavor and breathe in the fresh mountain air. If you listen real close you may hear the local quail cooing or see the local deer or wild turkeys meander through the yard as a special bonus.

The best part of the cabin is the back deck area which faces up into the woods where you can relax in your own private hot tub, or sit next to the propane fire-pit during those warm spring or summer evenings and watch while the stars make their appearance into the vast night sky while reminiscing about your day's experiences. 

The cabin boasts of Free WiFi, DirecTV, woodstove and W/D too, so even if you feel like you are "roughing" it you really have the best of both worlds. The quaint little bedroom has a queen bed and also has a TV w/DirecTV with a sliding rustic barn door. The kitchen has all of the modern conveniences minus a D/W you will need to try out that recipe or make one of your good ol' go to's and then snuggle up on the couch and watch a movie with your sweetie. 
Whether you are looking for a quick getaway or a week away, Camp David truly is a great choice to escape to, any time of the year. 
Impotant to know about this home

• This home sleeps 2
• Bedroom w/queen bed
• Bathroom w/shower
• Private hot tub
• Free WiFi
• DirecTV and DVD Player
• W/D
• Snowmobile Access during winter months
• This home is located in Chiwawa River Pines a mountain community
• This home is 10 minutes to Lake Wenatchee State Park
• This home is 10 minutes to Kahler Glenn Golf Course
• This home is 5 minutes to Fish Lake
• 4WD, AWD, or chains required for winter access
• No D/W here
• This cabin is Pet friendly 
Fees Vary By Season, Festival Dates and Holidays. The base rate for this property is for the first 2 guests. This home is pet friendly and each pet is $25 per pet per night (max dogs on site is 2)
Additional fees include a Housekeeping Fee, a 5% Resort Fee which covers credit card fees and property for up to $1,000 for accidental/unintentional incidental damages. Willful and negligent damages are not covered under the Resort Fee and will be the sole responsibility of the contracted guest(s). State and Local Lodging Taxes are also applicable.
PLEASE NOTE: We cannot permit single night stays under any circumstance. We have a 2 night minimum stay for regular dates and a 3 night minimum stay over federal holidays. This home will require 4WD, AWD, or chains during winter months.
This is a privately owned vacation home and we recognize that the home may sleep more than 2 people.   The owners (based on fire marshal regulations, Chelan County rental regulations and out of respect to the communities we live and work in) allow a maximum of 2 guests under the rental contract. There are never to be more than 6 guests staying at the property during any rental contracted period of time.  If more than the contracted number of guests are found on the property the contract will be null and void and guests will be required to vacate with no refund.  Please understand and note that we are legally bound to adhere to our contracts with out owners and regulations.   We respect and appreciate the efforts that allow us to offer vacation rentals for all to enjoy.
Location:
98826
Leavenworth
,
WA
United States
47° 48' 0.5652" N, 120° 38' 29.8752" W
Washington US