Guten Cabin
Unit Code: GuCab

$275 - $375/night
Available Extras
Stevens Pass Reduced Lift Ticket
SKI & STAY- (Reduced lift ticket at $44.50 each per person for 2017/2018 Season, select the # of tickets you want to purchase) Available 12/18/17 thru 04/02/2018
Pet Fee(s)
Please select the number of pets. Each pet is $25 per pet per night. 3 dog max
Guten Cabin Winter Vacation
Reviewed on 2018-01-12 by Brandy C. from Everett, WA
Visited December 2017
Services from rental manager
Cleanliness
Location
Property condition
We had a overall good experience. The location and cabin istself was wonderful. Great hard for sledding. Fully stocked kitchen for baking meals, warm stove very relaxing. There were a few issues..... Leaks dripping on the lower bed from the upper shower made it so we only could she in one bathroom. The couches we're dirty with lots of cracker crumbs. Dishwasher would fall out of counter when loading and unloading. Driveway steep and tough not to slide going up and down. But we enjoyed our stay alot because of all the fresh and falling snow!The cabin is really adorable. Comfortable master bed!!!
Couldn't have asked for better!
Reviewed on 2018-01-09 by Recent Guest from Kent, WA
Visited January 2018
Services from rental manager
Cleanliness
Location
Property condition
My group and I had an amazing time. The hosts were very accommodating and easy to work with. The cabin is well furnished and provides everything you could think of. You must give this place a try!
Awesome stay at the Guten Cabin
Reviewed on 2017-09-06 by Recent Guest from Renton, WA
Visited September 2017
Services from rental manager
Cleanliness
Location
Property condition
We did our annual summer group trip at the Guten Cabin and we loved it. The cabin had everything we need, including toiletries, towels, extra blankets, pillows and plenty of kitchenware. The place was clean and beds were comfortable. The basement was a really cute addition to the place and clean as well. Would rent from NW Comfy Cabins again. Only downside is the driveway is very steep and gravely so it is hard for cars to get in and out of there easily, unless you have a truck or SUV.
Not long enough!!!!
Reviewed on 2017-08-21 by Shari R. from Ephrata, WA
Visited August 2017
Services from rental manager
Cleanliness
Location
Property condition
Excellent and would do it again but stay longer!!
Summer vacation
Reviewed on 2017-08-15 by Recent Guest from Portland, OR
Visited July 2017
Services from rental manager
Cleanliness
Location
Property condition
We really enjoyed the cabin with the amenities and the large deck area wrapping around two sides to enjoy summer evenings. We came prepared for mosquitoes, but lucky us - we had no problems! Location is close enough to Leavenworth and Lake Wenatchee for daytime summer outings and but still secluded in a residential setting in the trees. We appreciated the attention from the rental management and the discount for the traffic issues caused by the local roadwork.
Cozy Getaway
Reviewed on 2017-06-22 by Recent Guest from Moses Lake , WA
Visited June 2017
Services from rental manager
Cleanliness
Location
Property condition
Beautiful, cozy cabin. Ideal for couples. Stayed with a group of 5 and I would say it's a little cramped. Bathrooms are very small. Cleanliness was also not really up to par. Overall the beauty and ambience of the property overtook the few aspects that were lacking.
Rustic Elagance
Reviewed on 2017-05-23 by Stacey M. from Duvall, WA
Visited May 2017
Services from rental manager
Cleanliness
Location
Property condition
Cabin was great, comfy beds, well equipped kitchen, nicely decorated,elegant yet rustic. We spent most of our time at the campfire and in the hot tub. Only negative is that it is next to a road, so you will hear the road noise if you are outside like we were. Probably wont hear it inside. All in all beautiful and would recommend.
Amazing experience
Reviewed on 2017-04-30 by Amirabbas A. from Mercer Island, WA
Visited April 2017
Services from rental manager
Cleanliness
Location
Property condition
It was super clean, furnished, and fancy. Beautiful layout. There were 8 of us, we had a fantastic time there. We will go back for sure. I believe you can not any place like this place. I would like to thank the management for making everything easy for guests and accessible.
Wow! Wow! Wow!
Reviewed on 2017-04-04 by Crystal G. from Leavenworth, WA
Visited April 2017
Services from rental manager
Cleanliness
Location
Property condition
This was our first time renting a home and not staying at your run of the mill hotel...all I can say is this is the way to go. Having a place to cook our own meals, enjoy each others company and relax in our own hot tub, and not have to share with other guests was such a bonus. We would definitely recommend the Guten Cabin, you can tell the owner takes great pride in sharing their cabin with others by ensuring that you are in not in want of anything, as it is well stocked and very comfortable. It was a about a 25 minute drive to Leavenworth, and just a few miles from Fish Lake where we were able to rent a pontoon boat for just around $13 an hour. A great getaway and we look forward to coming back.
Beyond our Expectations!
Reviewed on 2017-02-11 by shadi k. from federal way, WA
Visited February 2017
Services from rental manager
Cleanliness
Location
Property condition
Beyond our expectations! This place is amazing and we enjoyed it immensely. The rustic feel with modern amenities are a real bonus. The cozy wood stove and hot tub under the stars are just perfect. We spent time exploring the area cross country skiing with SkiPlain and dinner in town at South (YUMMY), the lights and feel of the Village are incredible. We will definitely be back during the summer with some friends to go hiking, golfing and wine tasting. I highly recommend the Guten Cabin to anyone looking for a real cabin feel and located in an area where there is so many recreational options. Big thumbs up to the Guten Cabin, only downfall, we were only able here for 2 nights. :o) Thanks Comfy Cabins, we will be back.
Guten Cabin awaits! Hot Tub, Internet and ready for you-rustic elegance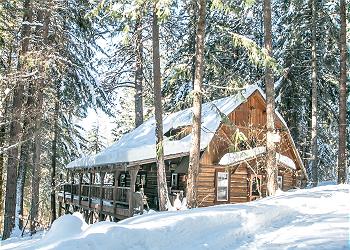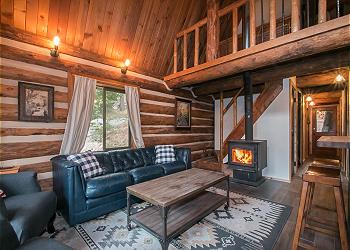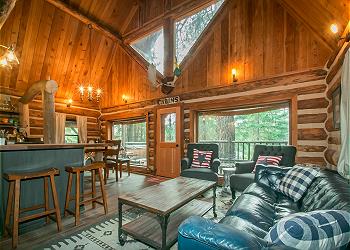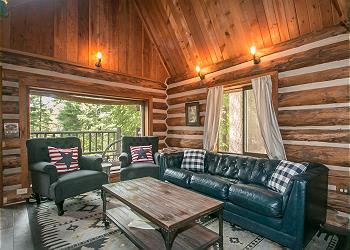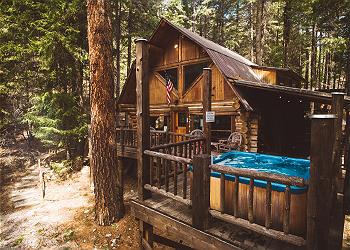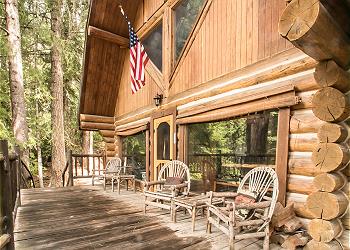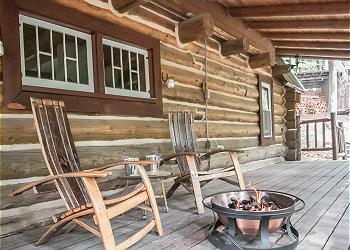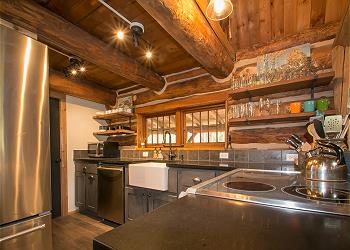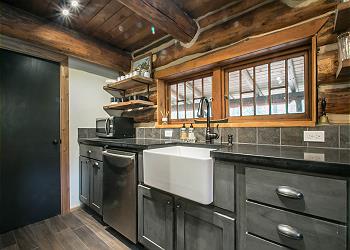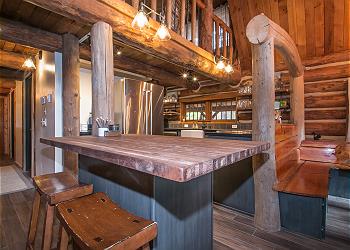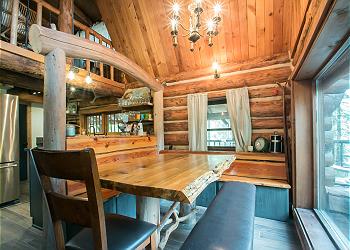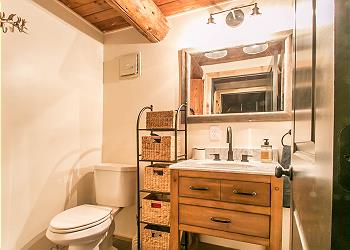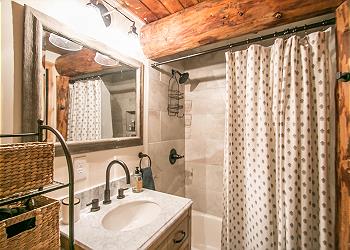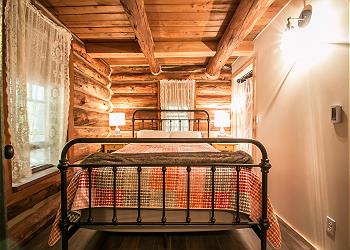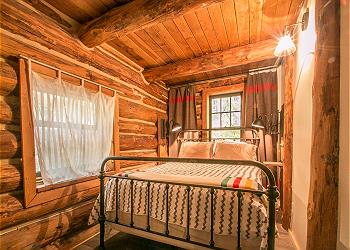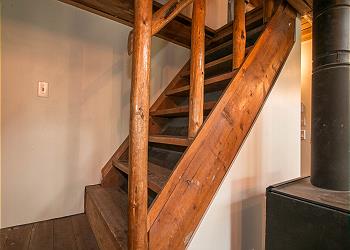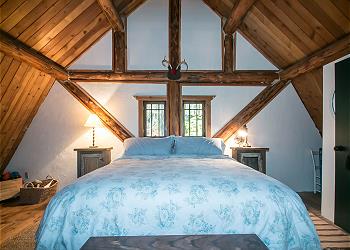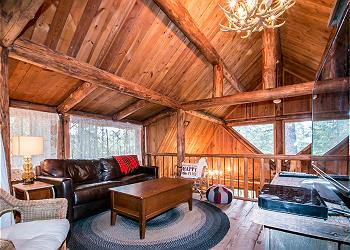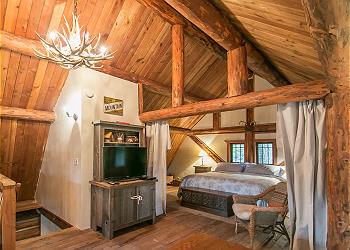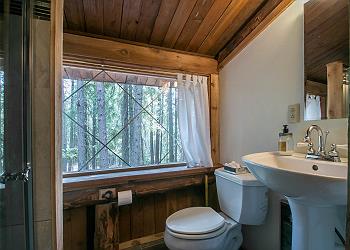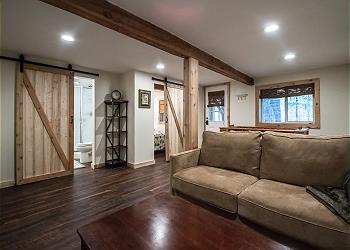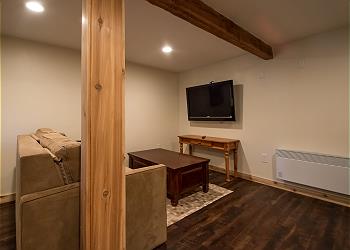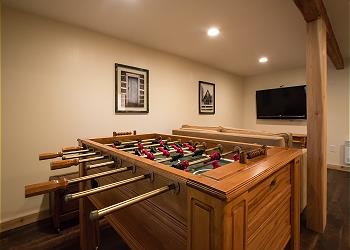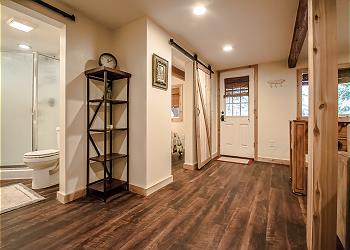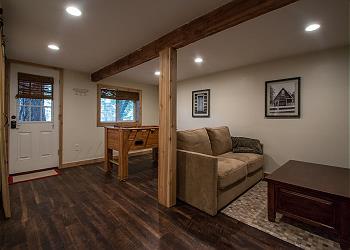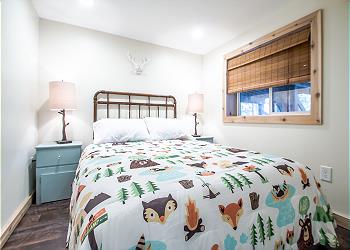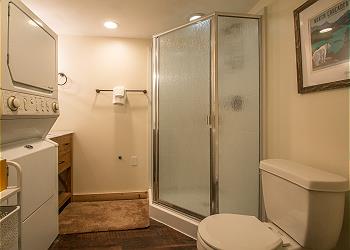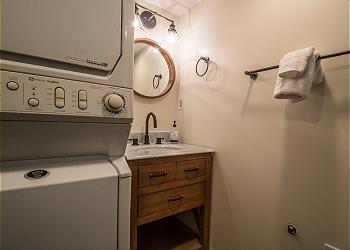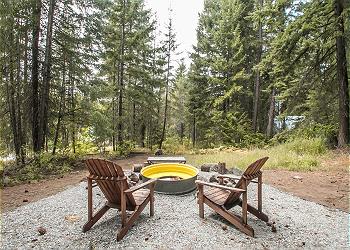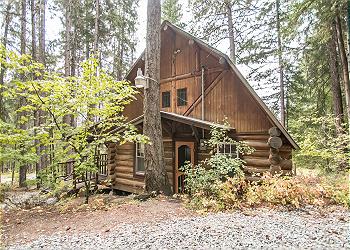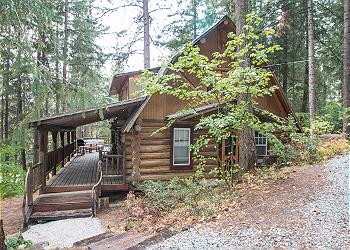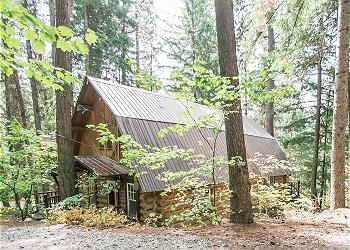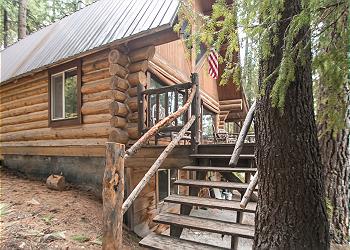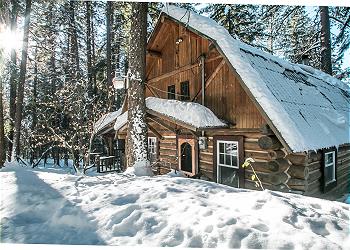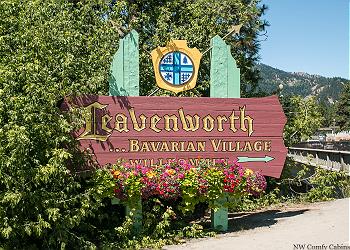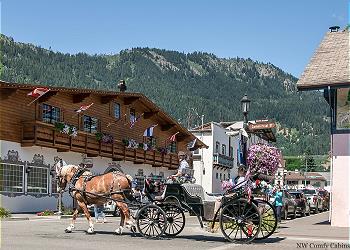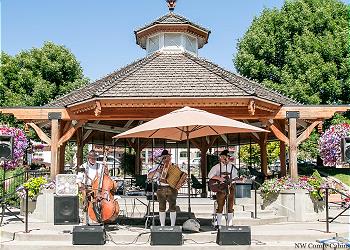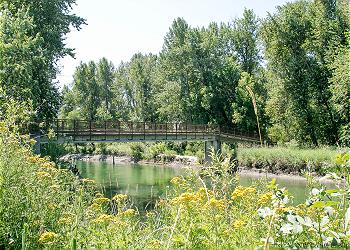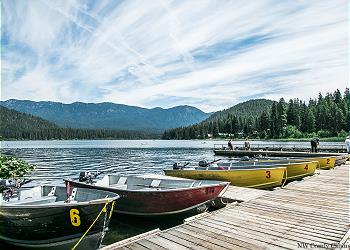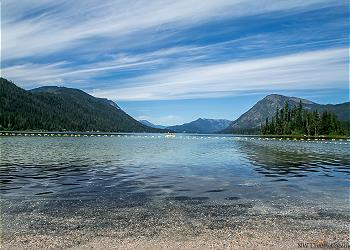 4 Bedrooms
3 Baths
Featured Amenities
Hot Tub
Internet
Near Mountain Springs Lodge
Pet Friendly
Important to know about this home: 
This home sleeps 8
Main floor has #1 bedroom with Queen bed, #2 bedroom with Queen bed, 2nd floor master #3 King bed 
Main floor bath is a full bath, 2nd floor bed is .75 bath (shower)
Basement with seperate entry  has  #4 bedroom with Queen bed and one .75 bath (shower)
This home has full size washer/dryer
This home has a open area sitting room and a family room  in loft adjacaent to master bedrrom and another family area in basement  which includes foosball, tv
This home is pet friendly, max one dog
This home has FREE WI-FI
This home has cable TV/DVD player
This home has a private hot tub 
This home has a wood stove - bundles can be purchased locally
This home has propane BBQ grill and outdoor firepit
This home has a wood fire pit (Fall/Winter/Spring use only)
This home has a foosball table
This home has snowmobile access to hundreds of miles of groomed snowmobile trails.
This property has a steeper grade driveway and will require chains/4WD in the winter months
This home is located in the Chiwawa River Pines community
 A tasteful blend of rustic pioneer accents, classic Americana style, and sleek modern design is what you will find at the "Guten Cabin". Immerse yourself in unique features and homey comforts such as hand hewn logs with chinking and floor to ceiling picture windows and radiant heated floors throughout the main floor. Recently remodeled and updated from its former days as "Camp Leavenwork" you will first notice the old growth trees offering shade and privacy. A large wrap around porch provides plenty of seating, propane fire pit and a hot tub perfect for relaxing and listening to the sounds of nature. Just inside, the two-story great room combining a cozy living space heated by a wood stove in those chilly winter months. It is easy to curl up under a blanket on the sofa with a good book and find yourself right at home.
Make sure to pick up some groceries on your way because this beautifully redone kitchen is begging for some culinary experimentation. Plenty of counter space helps you spread out and opening shelving makes finding any dishes an easy task. Store your goods or leftovers from a night out in the full sized stainless steel fridge. A microwave, dishwasher, stove and farmhouse sink brings you all the comforts of a complete kitchen. Just off the kitchen, there is a quaint bar area perfect for two to wake up together with some caffeine concoctions served fresh from the coffee maker. The dining area boasts a one-of-a-kind custom built dining table with plenty of seating to gather for that home-cooked meal.
Just down the hall are two private bedrooms each with a queen bed you can stay warm through the night under traditional style quilts and peek out at the star-studded night through old – style window panes and curtains. A full sized bathroom with toilet, sink and a shower/bathtub combo is great for a nice hot soak after a day on the slopes or in the hills.
Upstairs you will find a master suite in the open loft. A seating area with Localtel Cable television and DVD player offers a place to put your feet up and watch a family film or romantic movie in the wind-down of the evening. Curtains open to the master bedroom portion where a king sized bed is waiting for a great night's sleep. A private bathroom with tiled shower, toilet, and sink give the heads of household some privacy away from the main floor bath.
A newly renovated daylight basement with its own separate entrance below the balcony deck adds 400 square feet of living space and sleeps an additional 4 guests, with a private bedroom with queen bed and a quality queen sofa sleeper with memory foam topper. The basement also offers cable TV, a foosball table, bathroom with shower, and a stackable w/d. Barn doors separate the bedroom and bathroom from the TV area, and convection wall heaters operate silently to take the chill off those crisp autumn days. The floors above were soundproofed during the remodeling making it very quiet. 
The Guten Cabin lacks nothing to want in this timeless mix of modern touches and classic foundations while being centrally located in the heart of the Chiwawa River Pines community. Only minutes from Lake Wenatchee recreational area, Fish Lake, the town of Plain and just a short 30-minute drive to Downtown Leavenworth, you will be as busy or as relaxed as you hope to be in this home away from home. 
Fees Vary By Season and a Damage Security Deposit is Required For ALL Reservations
The base rate for this property begins with the first 6 guests. Any additional guests number over 6 will be calculated at a fee of $25.00 per guest per night up to a maximum occupancy of 10 people. 
*Please note that you must choose one of the two options below when booking* 

Either A) one-time payment of $25.50 or B) 100% refundable $1000.00 charge

A) A one-time plan payment of $25.50 through CSA Damage Protection  [1]that covers up to $1,500.00 of accidental damages (this does not include willful, negligent or deliberate damages).

B) A $1,000.00 damage deposit charge through NW Comfy Cabins Vacation Rentals that is 100% refundable. The funds will be ​taken​ from your creditor 48 hours prior to arrival and refunded within 72 hours of departure after the property has passed inspection and no damages are reported.

Please be aware that it may take anywhere from 1-10 business days for the funds to become available in your account after it has been refunded, which is determined by your banking establishment.
PLEASE NOTE: We DO NOT permit single night stays under any circumstance. We have a 2-night minimum stay for regular dates and a 3-night minimum stay over federal holidays. This is non-negotiable.
Location:
98826
Leavenworth
,
WA
United States
47° 47' 50.964" N, 120° 38' 43.4076" W
Washington US