Salmon Chalet
Unit Code: SaCh

$299 - $375/night
Available Extras
Stevens Pass Reduced Lift Ticket
SKI & STAY- (Reduced lift ticket at $44.50 each per person for 2017/2018 Season, select the # of tickets you want to purchase) Available 12/18/17 thru 04/02/2018
Nice Retreat
Reviewed on 2018-01-09 by Recent Guest from Renton, WA
Visited December 2017
Services from rental manager
Cleanliness
Location
Property condition
We enjoyed our stay at the Salmon Chalet. It was easy to find and was really nice inside. The pictures make it seem more remote than it is, but it was definitely quiet there. The one suggestion is to have some small kindling for starting a fire - we needed to go to Leavenworth to buy some.
Stayed for Oktoberfest weekend - Amazing stay!
Reviewed on 2017-10-17 by David B. from Everett, WA
Visited October 2017
Services from rental manager
Cleanliness
Location
Property condition
The cabin was so cute and clean! It felt like home and a great mini getaway for the weekend. It was well furnished and equipped with everything we needed. The only two downfalls was that it's the only cabin with no WiFi so majority of us had no service all weekend, we couldn't get an uber so ended up driving to Oktoberfest, and it is WAY to close to other cabins. The pictures online are a bit deceiving, they make it look like it's secluded and that's what we wanted but did not get. We felt we didn't have much privacy being so close to others, we kept our blinds closed day and night to get a little more privacy. If my friend that had service wasn't there, we would have never been able to contact the site manager with questions we had.
Salmon Chalet with private hot tub, Sat. TV and easily accessible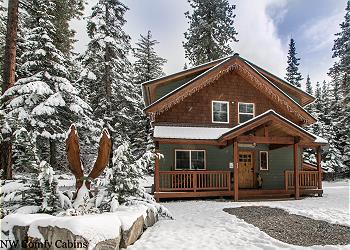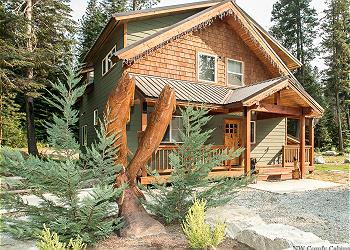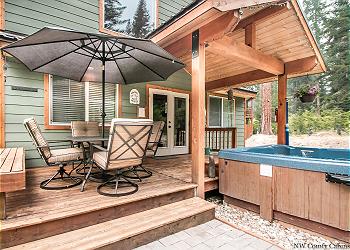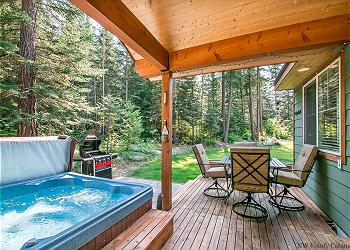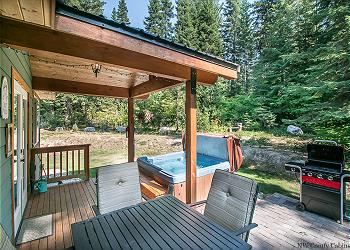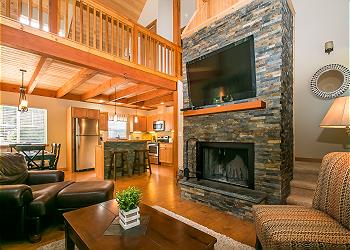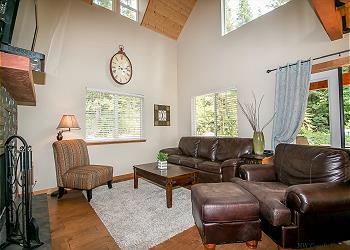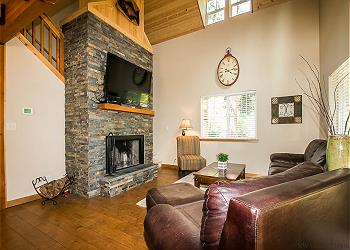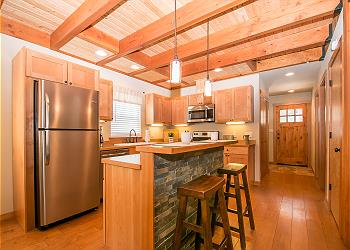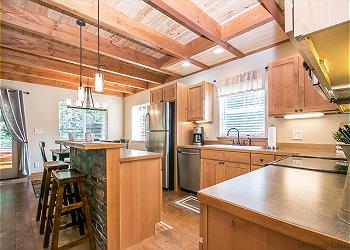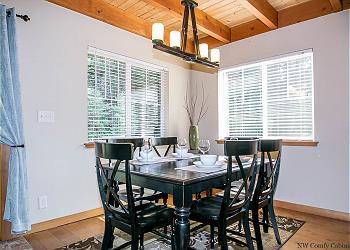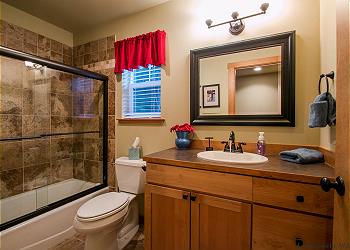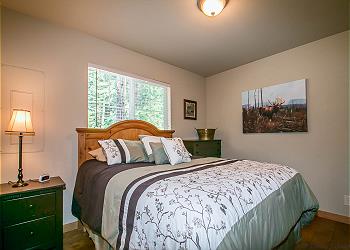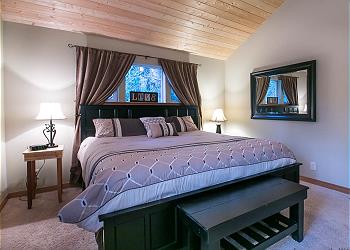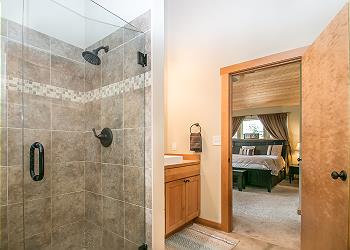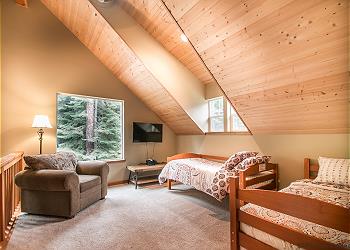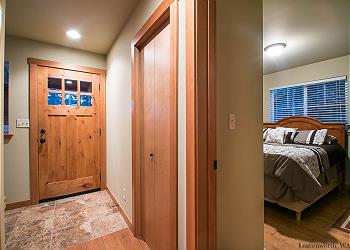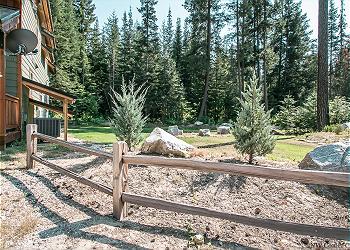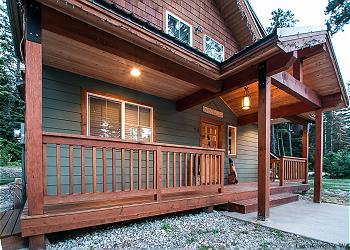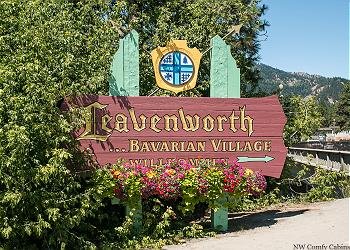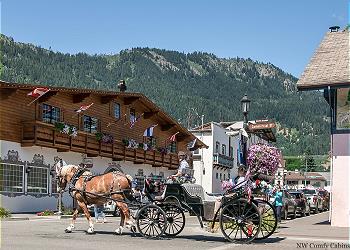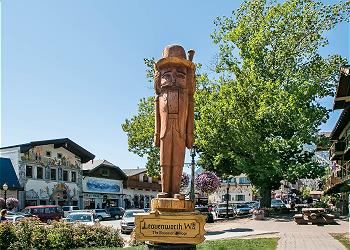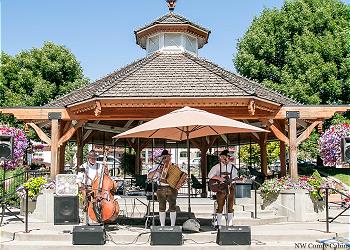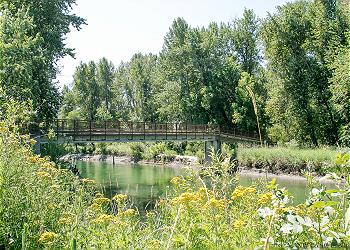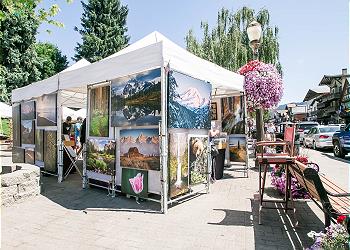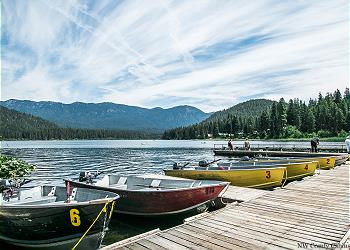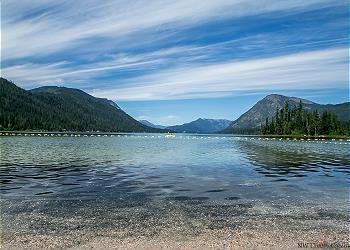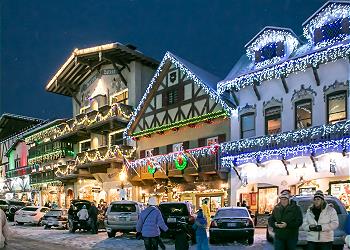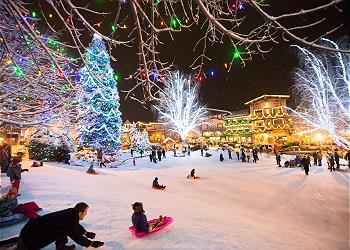 2 Bedrooms
2 Baths
Featured Amenities
Hot Tub
Near Pine River Ranch
Important to know about this home:
Sleeps 6
2 Bedrooms: Bedroom #1 w/king bed, Bedroom #2 w/queen bed
Loft: 2 Twin Beds
This home does not accept pets
1.75 Bathrooms, man floor tub/shower, 2nd floor oversized shower
This home has a private hot tub
This home has a wood fireplace
This home has Sat. TV
This home is near Pine River Ranch Wedding Venue
This home is just 20 minutes from Stevens Pass Ski Area
This home is just 20 minutes to the Bavarian Village of Leavenworth
This home is in a private mountain community
This home does not have WIFI
Private well, and at times can smell sulfur depending on the water level.  Running the water for several minutes clears the smell when present.
This home requires 4WD, AWD or chains during winter months
Cozily situated in a quiet mountain community the "Salmon Chalet" greets you with a beautiful wood carving of 2 salmon breaching upward towards the sky. Easily accessible year-round this home is in the Lake Wenatchee/Coles Corner area and is almost equal distance to both the Bavarian Village of Leavenworth and the always popular Stevens Pass Ski/Bike Mountain Resort. Just a few minutes from the Pine River Ranch Wedding Venue, Kahler Glenn Golf Course, Lake Wenatchee State Park, and Fish Lake this home is hands down where you want to be to take advantage of everything the area has to offer. Sleeping up to 6 guests comfortably the "Salmon Chalet" has the perfect floorplan for your family getaway or "friendcation."
Beautiful hardwood floors, pine, and stone accents along with a cathedral ceiling in the living area welcome you with a warmth and coziness to remind you that you are on vacation. The main floor of the chalet is appointed with a full kitchen with all the necessary amenities to prepare and enjoy your meal planning opportunities and includes a D/W, and breakfast bar with 2 stools so that you can grab that new cookbook and try out those recipes on the family. Sit around the beautiful dining table for 6 and enjoy that home cooked meal, or bring one of your favorite games or puzzles to immerse yourself in and get back to the basics of just "being together."
Just off the kitchen and dining area is the cozy living area with a spectacular wood fireplace with stone finish and high ceilings along with lots of picture windows to bring in the sun's natural light and mother nature's colors of the seasons. Flat screen TV with satellite programming and cozy furniture to cuddle up on and you are all set to settle in and watch a classic, favorite sports team or just catch up on work stuff, (try to keep this to a minimum ??) French doors out to the back covered porch area invite you to relax in your own private hot tub under the stars, grill up some juicy steaks on the propane grill or sit around the outdoor dining table and enjoy a local bottle of vino from one of the many local winery's in the area.
The yard is enhanced with green grass, exterior lighting and the local fir and pine trees to add that touch of "home." To round out the main floor interior living, the chalet does have a private bedroom with queen bed just off the hall, there is a full bathroom with tub and shower and washer and dryer. Upstairs you are greeted by an open loft with 2 twin beds and a large master bedroom with king sized bed and private bathroom with shower. The "Salmon Chalet" will fit all your getaway needs no matter what your reason for experiencing our beautiful and recreation filled area and we look forward to having you as our guests.
Fees Vary By Season and a Damage Security Deposit is Required For ALL Reservations
The base rate for this property begins with the first 4 guests. Any additional guests number over 4 will be calculated at a fee of $25.00 per guest per night up to a maximum occupancy of 6 people. 
*Please note that you must choose one of the two options below when booking* 

Either A) one-time payment of $25.50 or B) 100% refundable $1000.00 charge

A) A one-time plan payment of $25.50 through CSA Damage Protection  [1]that covers up to $1,500.00 of accidental damages (this does not include willful, negligent or deliberate damages).

B) A $1,000.00 damage deposit charge through NW Comfy Cabins Vacation Rentals that is 100% refundable. The funds will be ​taken​ from your creditor 48 hours prior to arrival and refunded within 72 hours of departure after the property has passed inspection and no damages are reported.

Please be aware that it may take anywhere from 1-10 business days for the funds to become available in your account after it has been refunded, which is determined by your banking establishment.
PLEASE NOTE: We DO NOT permit single night stays under any circumstance. We have a 2-night minimum stay for regular dates and a 3-night minimum stay over federal holidays. This is non-negotiable.
Location:
98826
Leavenworth
,
WA
United States
47° 45' 21.564" N, 120° 44' 13.3044" W
Washington US